Fareham Nomads Valentines Meet Report
15 Feb 2023
Author: Matt Boyd-Wallis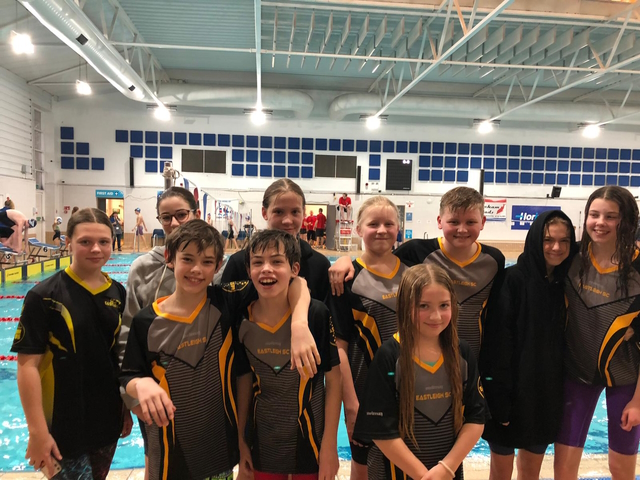 Eastleigh swimmers swam at the Fareham Nomads Valentine Meet at Havant & Waterlooville last weekend (Saturday 18th & Sunday 19th February). I would like to say thank you and well done to all those swimmers, coaches and parents who supported our swimmers to another great set of results. Mandy looked after the Saturday and Jodie on Sunday, keeping us all informed of the results and the great swims that took place over the four sessions.
Overall we had a total of 72 swims, recording 40 PBs and bringing home 27 Golds, 7 Silver and 9 Bronze medals in total. What is impressive for me as a coach was the range in both ages and events that we were recording our new PBs in. This demonstrates the breath of our swimmers' depth in strokes, willingness to try new events and our determination to compete in these events. It truly is a credit to our swimmers' and coaches' hard work in training, so keep going guys, all your hard work is truly paying off.
Session 1 – Saturday 18th Feb (AM Session)
We started so well with 10 PBs in this very first session, 2 Golds with Isla winning the 200m Backstroke & Oliver winning the 100m FC. Oliver went on to get a Bronze in the 50m Backstroke, with Allana A getting a Bronze and Aurelia getting a Silver in the 100m Butterfly.
Session 2 – Saturday 18th Feb (PM Session)
In this session Mandy must have rallied the swimmers as we did even better than the morning with 13 PB's, with our medal haul increasing hugely. Ben got a Silver in the 200m FC, Ella got a Gold with Aurelia getting a Bronze in the 400m FC. Oliver continued his medal run with a Gold and Alex S a Bronze in the 50m Butterfly. Emilia and Poppy continued to build upon their success and confidence from the Hampshire Championships with Golds, along with Jessica a Silver and Megs a Bronze in the 50m Breaststroke, for their age groups.
Alex S got another Bronze in the 200m Breaststroke and Emilia got another Gold and Megs another Bronze in the 100m IM. Ben got a Bronze in the 100m Backstroke and Ella won another Gold with Aurelia getting a Bronze in the 200m Butterfly, finishing a very long yet successful day for all.
Session 3 – Sunday 19th Feb (AM Session)
Jodie took over the coaching reins on Sunday and continued to build confidence and smiles in all our swimmers. We recorded 9 PBs in this third session and the medals kept on rolling in. Oliver got another Gold in the 200m IM and Ella in the 400m IM. Oliver went on to get 2 more Golds in this session in the 50m FC and 100m Butterfly. Not to be outdone by her twin, Isla got Gold in the 50m Backstroke and 100m FC. Not to be out done by this brother and sister team, siblings Emilia and Jess felt like they had to get a few more medals, Jess getting 2 more Golds in the 100m FC and 100m Breaststroke, with Emilia getting a Gold in the 100m Breaststroke too, and Ella getting a Silver in the same event for their age groups.
Final Session 4 – Sunday 19th Feb (PM Session)
Traditionally the final session of any meet is where we see a mixed bag of results, yet our swimmers kept pushing. Highlighted very well in the very first event of this final session, the girls 200m Freestyle, this event we got three Golds with Emily B, Ella and Isla all winning. But for me a highlight, and not to take away from the others girls, was Aurelia's swim where she just missed out on a medal but recorded a 10 second new PB in this event. Ben earned a Silver in the 400m FC and Emily a Gold and Jessica a Silver in the 50m Butterfly for their age groups. Emily then got two more Golds in the 200m Breaststroke and 100m Backstroke, along with Ella getting a Silver in the 200m Breaststroke and Isla a Gold in the 100m Backstroke.
All in all this was a fantastic weekend for all involved and just shows the confidence and belief that is growing within the club and our swimmers. Competitions are for you to do your best, enjoy your own and your friends'/teammates' successes and learn from any mistakes. We train hard to race easy and to enjoy the successes, whether they are PBs or medals, whether they are our own or our teammates'. We can only ever do our best in that moment in time and then we move forward, never dwell or ruminate, just enjoy the moments and look forward to the next, together as a team.
---
open, meet, report, head, coach, medals, competition, journal