Swim England Competitive Performance Awards
Swim England has a set of competitive performance awards, badges and certificates for swimmers to work towards regardless of age. They are required to achieve certain times to qualify for the different levels of awards, Bronze, Silver, Gold and Platinum. The awards are split into sprint (25m, 50m and 100M in all strokes), middle distance (200m in all strokes, 400m freestyle) and distance (400m IM and 800m and 1500m in Freestyle). Some strokes and distances can be achieved Short course or Long course.
How do I qualify?
Qualifying times (see PDF) can be gained at any organised event i.e gala, open meet or a club time trial night. Times given to swimmers on a timetabled training session DO NOT QUALIFY.
What do I do with the badges?
The idea is you buy the circular badges for the distances in the coloured time that you achieve and the corresponding stroke badge in the same colour, you only need buy one circular badge per distance level bronze, silver, gold or platinum and one stroke flash badge per colour regardless of distance for example if you achieve 50m and 100m backstroke bronze time you only need buy one backstroke badge that will go under the bronze circular badge but will need all the stroke flash badges in the same colour to complete the set. These badges can then be sewn onto the back of the swimmer's top or hoodie. Once the badges have been achieved you can mark them off on the Swim England Performance Award Record Sheet (see PDF).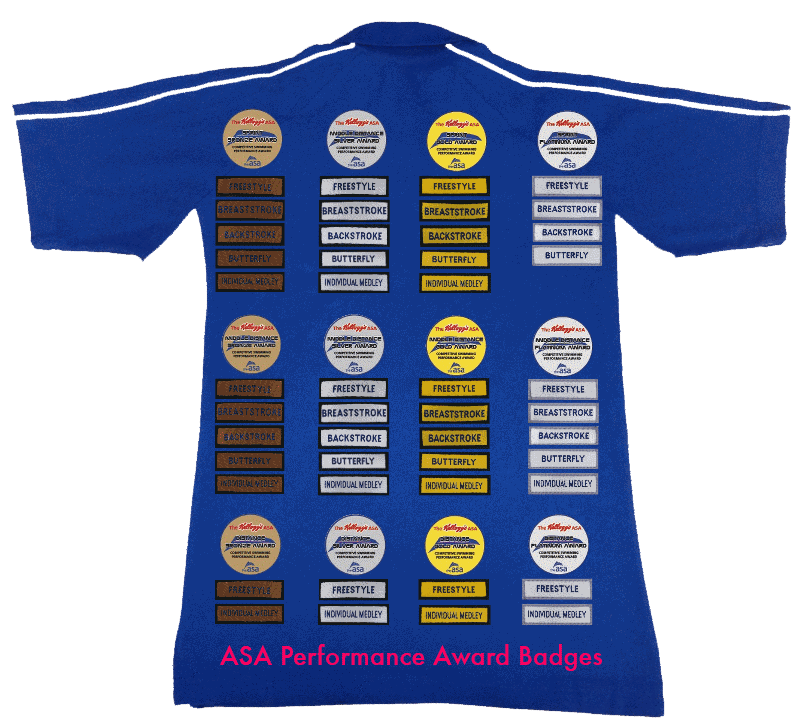 When and where can I buy the badges from?
Badges and certificates can be purchased from the club desk between 7.00pm and 8.45pm on a Monday night in the cafe area at Places Leisure Eastleigh. The cost of these is £3.50 for a certificate and round coloured distance badge and £1.00 for a coloured stroke flash badge. A copy of the qualifying times will be at the desk for you to check and also a copy can be found on the club notice boards.
Most times from galas, open meets and time trials can be found by logging into the Club website.
---