Megan's Achievements at Summer English Nationals 2023
19 Aug 2023
Author: Matt Boyd-Wallis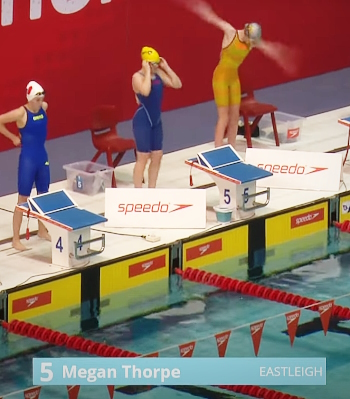 How do I start this write up? What an amazing set of results Megs has had over this year, and this reflects the type of person, swimmer, and competitor she is and will become!
Megs qualified for 2 Summer National events this year in the 200m Freestyle and the 100m Freestyle, up until the finals she had progressed well on her 100m Freestyle, however the 200m Freestyle had become a little of a boggy event for her. Megs had qualified for the 200m Freestyle with a 2:14.07 and for the 100m Freestyle with 1:01.78, both Long Course times which she had achieved over this season.
The 200m Freestyle was held on Wednesday 2nd August with the heats in the morning and Megs swam a very controlled heat doing everything that we had practised, holding her breathing pattern going out on a 30.96, turning at the 100m mark in 1:04.86 (33.90) then turning at 150m in 1:39.20 (34.34) and finishing in 2:13.46 (34.26), which was her best time this season in this event. Not quite a PB but the way she swam it was very impressive and she said to me as she walked round 'I felt good and could give a little more!'. We had been working on racing clever and knowing the difference between front-end speed and back-end speed and not going so fast that you have nothing to give in the final sections of the race. I was always told to try and keep your 1st 100m and 2nd 100m splits between 3 to 5 seconds of one another and this is exactly what she did, her 1st 100m on 1.04.86 and her 2nd 100m on 1.08.60. In this, she qualified as the 2nd fastest 14yr old girl, a centre lane in the final. It is this kind of swimming that made me incredibly proud of her and tells me she has the potential to just keep growing, improving, and becoming even faster.
The final was later in the day at 5pm and so we went off to the hotel to rest and prepare for the evening session. This period between sessions can be just as important as all the training that an athlete can do during a season, understanding and learning what to do, what to eat and how to mentally prepare for the finals. Keeping to a routine and knowing what to do is key and this is learnt through the season when competing at other meets. Meg's warm up went very well and she was looking balanced and smooth in the water.
Looking back, we probably should have stayed in the stands longer, listening to music and not allowing the moment take over our minds. But we came down onto poolside very early and did some pre-pool warm up, but between finals being swum and medal presentations we allowed the moment to take over both of us. Megs finally got behind the block, she swam the first 100m exactly as planned going out on a 30.62 (0.3) quicker and turning at the 100m mark on 1:03.72, however the other girls in the final decided this was where they would kick on, showing their training depth and development. This is a really hard situation to deal with, but as a swimmer, you can only control your own fate and unfortunately it took Meg's own focus away from her race. Every competitive swimmer has been through this, and we learn from our mistakes, and it makes us stronger and better in the long run, as Megs demonstrated 3 days later!
This is where I feel responsible for, as a coach. Coaches should teach the tools required both mentally, physically, and tactically for their swimmers. But it is an absolute credit to Megan who recorded her fastest 200m Freestyle time this season at Nationals and then came 10th overall, meaning that she is the 10th best 14-year-old female in England, which is a huge credit to her.
However, it is what Megs did 3 days later, which for me makes me very proud of her and summarizes what she can do! In the 100m Freestyle event, I was taught that the drop off between your 1st 50m and 2nd 50m, should be between 1.5 – 2.2 seconds, and this is what we had been working on in the couple of weeks building up to the Nationals. On Saturday afternoon she swam her 100m Freestyle heat recording a time of 1.01.10, going out on 29.74 and returning on a 31.36 making that a 1.62 difference, so doing exactly as we planned! As a result, Megan achieved a new PB, recorded a new club record for the fastest 100m Freestyle swam by any female in the club's history and placing Megan 2nd going into the final.
This time we changed our preparation for the final, we stayed up in the seats longer and this kept us focused and Megs did her pre-pool and stretch routine and we went down onto poolside a lot closer to the final. It was an incredibly late final, but Megs remained focused on the job at hand. She went out with the same time as in the heat with a 29.74 and returned on a 1:01.38, slightly slower than her heat swim but still faster than any other 100m Freestyle she had swum up to that day. This placed Megan 5th in the 100m Freestyle and so meaning she is the 5th fastest 14-year-old female in England.
All in all, this is an amazing performance and demonstration of competitive spirit and character. Megan is a great role model to every swimmer in this club for your character, personality, competitive spirit and sportsmanship. It was a pleasure to share this time with Megan and she is a true credit to herself and Eastleigh Swim Club. Well done Megs and I wish you all the best for the future and just keep building upon these experiences and you are going to have further and greater successes.
---
nationals, summer, england, english, megan, head coach, report, congratulations, inspiration, achievement