Head Coach's Weekend Report
20 Oct 2022
Author: Matt Boyd-Wallis
What an impressive weekend of swimming from Eastleigh! One weekend and success at three different competitions!

PNSC First Chance County Qualifier
This was a great three days down at Portsmouth and I wanted to share the achievements of all of you and let you know just how amazing you all did. The confidence and commitment to racing, challenging themselves both mentally and physically was so impressive and incredibly pleasing.
Over the first 2 days we had 83 swims and a total of 51 of them were PBs. I know how much some of you like the bling too, so just to let you all know we got 18 golds, 17 silvers and 13 bronze, a total of 48 swims ending up in the top three for their age group.
Day 3 was just as impressive. In total we had 63 swims over Sunday's two sessions, 43 of those swims were PBs, acquiring a further 16 Golds, 6 Silvers and 11 Bronze Medals. This gives us a grand total of 146 swims over the three days and 114 of them were PBs. This reflects the belief you guys are starting to have in yourselves, the willingness to take on challenges and the fun and enjoyment you are getting from your efforts. Tyler and I are seeing more smiles, positivity and general up-beat feelings everywhere within Eastleigh and it is truly lovely to see.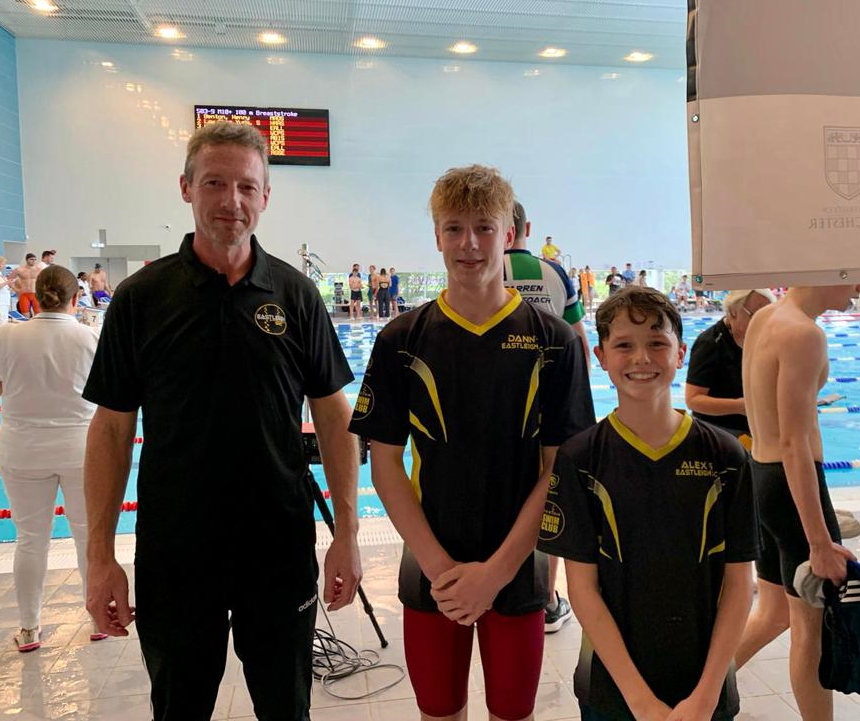 Winchester Autumn Open Meet
The Winchester meet was just as successful with Danny recording 3 new PBs and Alex G doing the same. Both boys doing this with the help and support of their parents both on and off poolside. They too brought back some medals with 3 Golds from Alex and both recording some very impressive PBs and drops in times, with Alex smashing the old club record in each of his breaststroke races.

Junior Cup
Finally, to top it all off, some swimmers swam in Portsmouth during the daytime and then in the evening went off to the Junior Cup in Fleet with Mandy and Andrew. The whole team did incredibly well, finishing second overall and in Andrew's own words 'My ears are still seriously ringing!' implying that you guys were the loudest ones up there too. Long term, finishing second means that we may well be promoted to the next league up in the Junior Cup competition, which is a reflection of you as individual swimmers and a team. I would like to thank Mandy, Andrew and all the parents who supported Eastleigh up in Fleet!

Seriously guys, keep this going! Keep challenging yourself in training more and remember: 'We Train Hard to Race Easy'.
---