Fun Gala Report
17 Jul 2022
Author: Gareth Latham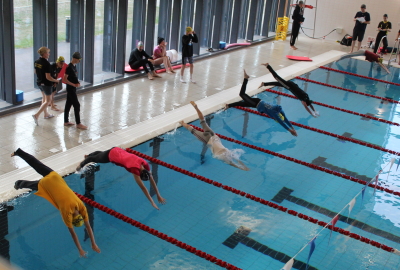 Last Friday saw our whole club Fun Gala take place at Places Leisure Eastleigh.
It was an evening for swimmers of all squads to come together for an evening of fun and entertainment. It was also and opportunity for Coaches and Swim Teachers to join in the fun in a relaxed (if excitable) atmosphere.
Unfortunately due to unforeseen circumstances, our Head Coach Paul Dollery was unable to attend. He was missed but I'm sure nothing will stop him from joining in next year!
The evening's programme devised by Matt and the Coaching team saw lots of races involving objects and clothing to make those races just a little bit harder!
We had events such as 2 x 25m Woggle race, 4 x 1 surf board relay, 2 x 25m Breaststroke wearing trousers, jumper and a woolly hat!
There were even Coaches races where the swimmers got a rare look at our coaching team's athletic prowess :) Well done Coaches Matt, Mandy, Jodie, Tyler, Callum, Phil and Swim School Manager, Kayleigh.
There were cakes and refreshments on sale as well as a raffle to win some amazing prizes.
Overall, the evening was a great success judging by the number of smiling faces seen when the goodie bags were being collected.
Bragging rights this year go to...
Team Mandy
... for the overall win, well done!
I'd like to personally thank all those who volunteered to help on poolside: Graeme Strike as announcer, Julia Maddock as Starter, our Team Manager's Tanya Scott, Julie Evans, Natasha Hartwell, Joanna Jarmuziewicz, Finishing Judges Andy Scott and Victoria Brown, Nicola Symonds, Gala Co-Ordinator Debbie Latham and of course our scorer in the cupboard, Paul Rutherford.
Away from the pool, thanks go to Riette Prinsloo, Shereen Hassan, Malini Barchha running the Raffle and Sam Rutherford and Jennifer Coventry running the cake stall. Thank you to all those that donated cakes and raffle prizes.
Special thanks go to Linda Field, Debbie Latham, Nicola Symonds and Riette Prinsloo for all there hard work in the weeks leading up to the evening to ensure a great event was put on.
There are lots of pictures to view on our Facebook page and Instagram, please follow and like :)
Thank you to our Club President Andrew Thomson and Tracy Aldhouse for taking so many pictures and uploading them for us all to see.
---
fun, gala, summer, report, smile, #TeamMandy, #TeamJodie, #TeamMatt, #TeamTyler