English Summer Nationals Report
10 Aug 2022
Author: Paul Dollery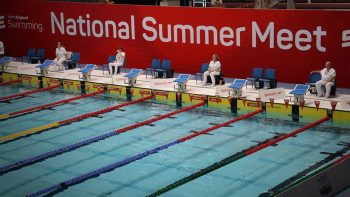 The English Summer National meet saw Megan T swim three races and make three finals, whilst Izzy H had two swims and made one final.
Thursday 04th was a four-hour drive to Sheffield followed by a one-hour familiarisation pool session at Ponds Forge for both girls and then to get a feel of the venue and the understanding of the procedure for the call room for the finals etc.
The coaches meeting, that I attended that evening also brought the news that the swimmers did not have to report to the call room for finals until only 10 minutes before their race due to covid restrictions which would help to alleviate the nerves if they did qualify through the heats.

Friday 05th
Izzy was first up with her 100m breaststroke heats and she swam a strong race and gained valuable experience from the event even though she had a better than normal start that we had been working on prior to the meet, she was still slightly off her PB time and this was not enough to proceed through to the finals that evening. She realised the importance at this level of not being left behind over the first 25m of her races.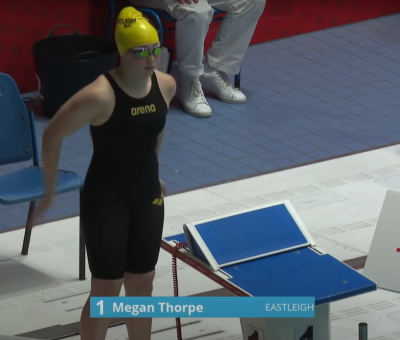 Next was Megan who was ranked 9th in her 200m freestyle race. She swam a great first 50m and then the 100m going out in her heat very strongly, and then she held her stroke over the second 100m to swim a huge 3 second PB and smash Emily Ard's long-standing club record too, setting a new best time for our 13 year old girls of 2:14.56.
Megan had now qualified for that evening's final in fourth place, just one second off the medal positions.
After a good afternoon's rest, Megan returned to that evening finals and raced her 200m freestyle with the same race plan as the morning's heats, going out strong and staying alongside the fastest placed finalists. She held her position until the 100m turn and manged to improve her 3rd length stroke rate but the front swimmers where just too strong for Megan on this day and although she had another huge swim and dropped another two seconds off her PB from her earlier heats, also lowering her own new club record, Megan unfortunately missed out on a medal by just 0.3 of a second. So close, but a superb new club record time of 2:12.56.

Saturday 06th
Both girls had a rest day yet came back to the pool midday to train. Another one-hour session to keep the feel of the water and maintaining some race pace times and those important starts practices.

Sunday 07th
Megan had another distance event in the morning heats with the 400m freestyle, and although Megan was ranked 10th in the heats, she took out her own heat very strongly trying to lead from the front and had some great splits thorough each 100m and maintained her stroke technique bringing her another great PB time of 2.5 seconds and, more importantly, a spot in the final for that evening, ranked 8th into the final but also only two seconds off the medal positions.
After another rest through the afternoon, Megan returned to the pool for her 400m freestyle final. We decided she had nothing to loose and set a race plan where she would take her first 100m and 200m splits out even faster than the heats and try to maintain race pace alongside the front swimmers. Megan did this very well and although she was looking on good form at the 200m turn she couldn't maintain the tempo and struggled to hold this pace, finishing her race in a creditable 10th which was a gallant effort and still faster than her entry time from the heats.

Monday 08th
Both girls returned to the pool for their last day's heats with Izzy in the first session for her 50m breaststroke, even more determined now to make the next step and achieve a National final.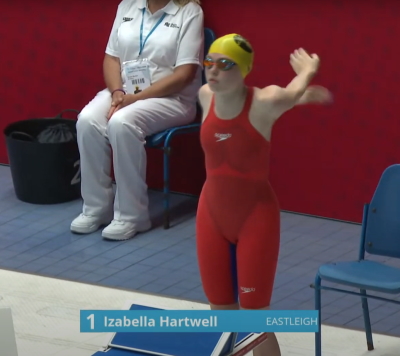 She had a much-improved start, driving off the blocks, and although she still came up behind the other girls, Izzy had a storming stroke and pulled through the field to achieve a time just off her PB and more importantly, qualifying in a superb 7th place for the evening's finals.
Megan swam in the midday session for her 100m freestyle and although she was highly ranked at 4th fastest, she was also aware that the whole field in her age group were all only separated by one second so could easily miss out on the final. Megan had a great first 50m and turned first in her heat in 29.62 and was in control of her heat and she held on to take another finalist spot in 7th position just off her PB entry time.
Both girls had been told to rest and return to the pool later for the finals. Izzy arrived first and, during warm up, worked on her starts and speed. Megan came much later to warm up in the swim down pool as she did not have as much recovery time from her earlier heats.
Izzy's 50m breaststroke final saw her forget about her driving off the blocks and she struggled with her start and unfortunately surfaced a whole body length behind the other swimmers. Her speed from this point onwards was excellent. Izzy has learnt so much from this experience and a realisation that to be a medallist she needs a better start. Even though she has a great stroke, she cannot afford to be left behind off the blocks. Izzy has achieved so much in a short time and although she finished 10th in the final on this occasion, she is aware of her potential and needs to improve on certain areas of her technique to be in the medals at the highest levels.
Megan's 100m freestyle final was one of the last events and the day had been very long, some 12 hours in total, yet she again was so determined and took her first 50m out in a similar race pace as her earlier heats. She turned even better than in the heat after her warm up practices, where she was attacking her turns faster. Megan had had a long four days of racing and training and unfortunately the schedule caught up on her as her stroke rate through her second 50m slowed slightly yet she still held on to finish just outside her entry time and a creditable 8th place.
Both girls have competed extremely well and we are proud to have them representing our club in such a positive way at such a high level. Making English National finals is a fantastic achievement by Megan and Izzy.
Well done girls, we are all very proud of you.
---
nationals, head coach, report, england, english, finals, summer