County Championships Report
09 Feb 2023
Author: Matt Boyd-Wallis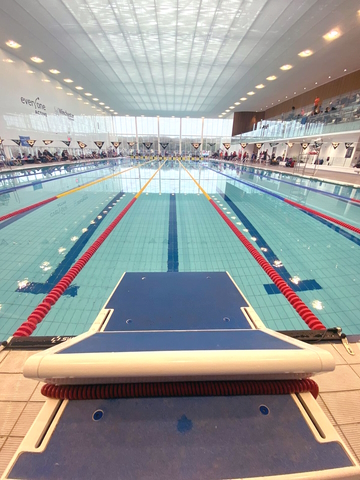 Counties month has well and truly started and it has been a good one for Eastleigh Swimming Club! I don't want to bombard you all with statistics, so I have broken it down by days, however there is a little stats involved. But before I start, I just want to say a big thank you to all the Team Managers, Swimmers and Parents for both weekends and Tyler, Mandy and Andrew for all their help on the first weekend, without everyone's support it wouldn't have been the success it was.
Day 1 - Saturday 21st January
Session 1
4 Swims, 3 PBs, 1 Gold Medal
This was the 800m heats for both sexes of all ages and we got off to a flying start with Megan T getting a Gold in the Girls 14yrs age group, Ella S coming 7th in the same age group and Alana M coming 4th in the 15yrs age group. All 3 girls recorded some great PB's with Alana taking a whopping 22.4 seconds off her pervious PB which had only been recorded at the back end of 2022.
Sessions 2 and 3
16 Swims, 13PBs, 1 Gold Medal
These sessions were for the 400m IM and then the Team Relay events. Veronika S did amazingly well in a tough age group and race, coming 12th in the 14yrs age group. All the teams, Girls 10-12 and the Boys 14/U Freestyle and Medley Teams, did incredibly well recording PBs in all of their races, bar one race, placing very well against some very strong and much bigger clubs than ourselves.
In the evening session (Session 3) Emily placed 4th in the 10-11 age group in the 400m Free and Megan getting a gold in the 14yrs age group. The relay teams continued their success from the earlier session with nearly all getting new PB times. This finished a very good first day of competition.
Day 2 - Sunday 22nd January
Session 4
39 Swims, 15PBs, 1 Silver and 1 Bronze Medal
This session was individual races for the 15yrs and over for both Boy and Girl swimmers. We had a total of 39 swims over a range of differing events. In the heats we had a total of 10 PB swims, which got 7 of our swimmers into the finals for their races. From these 7 finalists, five went on and further improved their times and recorded faster times and new PBs than what they recorded in the heats. Alana M smashed her PB to take a stunning bronze medal in 15yrs 200m IM with an excellent swim and Izzy H took a strong silver in the 16yrs 100m Breaststroke. Lilly, Alana and Layla came an excellent 4th, 5th and 7th the in the 15yrs 100m Breaststroke final.
Session 5
47 Swims, 12PBs, 1 Gold Medal
This session was again a mixture of individual races and Relay Team events for the older swimmers (15yrs & Over) and both sexes. In the heats of the individual events, we had 8 PBs, which then took 5 swimmers into the finals for their events. From these finals 4 new PBs were recorded, with Lilly coming 5th in the 50m Free and Nathan getting a Gold Medal in the 50m Fly. Again the relay teams did very well placing within the top 8 teams and competing well against the other teams in the county.
Day 3 - Saturday 4th February
Session 6
25 Swims, 19PBs, 2 Gold and 1 Bronze Medals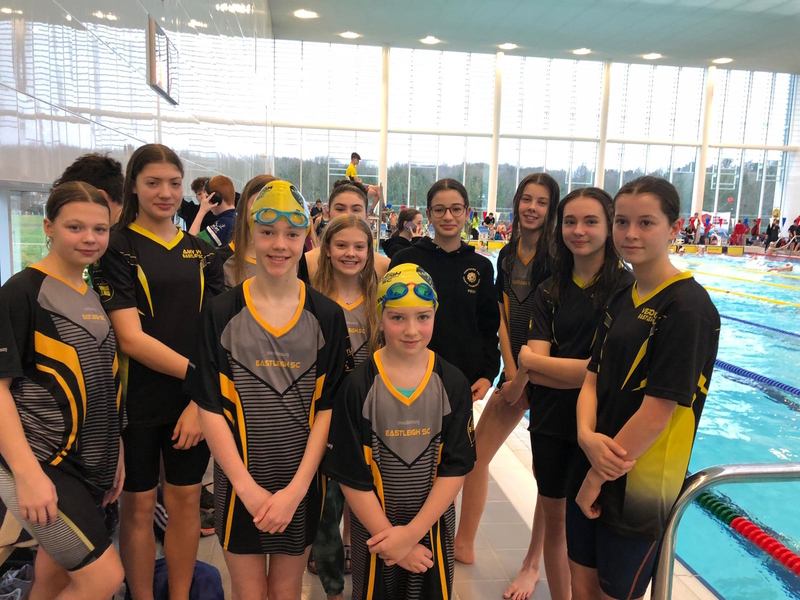 This was the 1st session of the second week of competition and was purely for the younger swimmers, 10-14yrs age group, of both sexes. We had some incredible swims with swimmers swimming for the very first time at County level and with them then making finals too. In the heats we recorded 12PBs, with Megan getting Golds in the 200m Freestyle and the 200m Butterfly for 14yrs age group. In the 200m Butterfly, Veronika swam an amazing 200m Butterfly, coming 5th overall and taking 8 seconds off her old PB time. From these amazing heat swims, we had 8 swimmers reach the finals for their events and 7 of them recorded even better PB's, from their earlier swims in the day. Amy VW got her very first county medal, a Bronze in the 50m Breaststroke. Emilia and Poppy made their first ever county finals, in the 50m Breaststroke, with Emily B also making her first final and coming 4th in the 100m Backstroke in the 10-11yrs. All in all a very encouraging and great start to what was going to be a long weekend.
Session 7
21 Swims, 7PBs, 2 Gold and 1 Bronze Medals
This was a very fast and furious session, we had 5 PBs in the heats which then took 13 swimmers in the finals of their events. Again some great swims, with Elliot L showing great maturity and length in his strokes and coming 5th in the 100m Breaststroke. Emily (10-11yrs) and Megan (14yrs) then both got a Gold Medal in the 100m Freestyle, seeing Emily's smile, when she realised she had just won her first ever county medal, was a fantastic moment and then taking that and seeing her and other swimmers just growing in confidence and belief in themselves, was absolutely fantastic. Emily then added a Bronze Medal in the 50m Backstroke, two races later.
Day 4 – Sunday 5th February
Session 8
16 Swims, 12PBs, 1 Gold and 2 Bronze Medals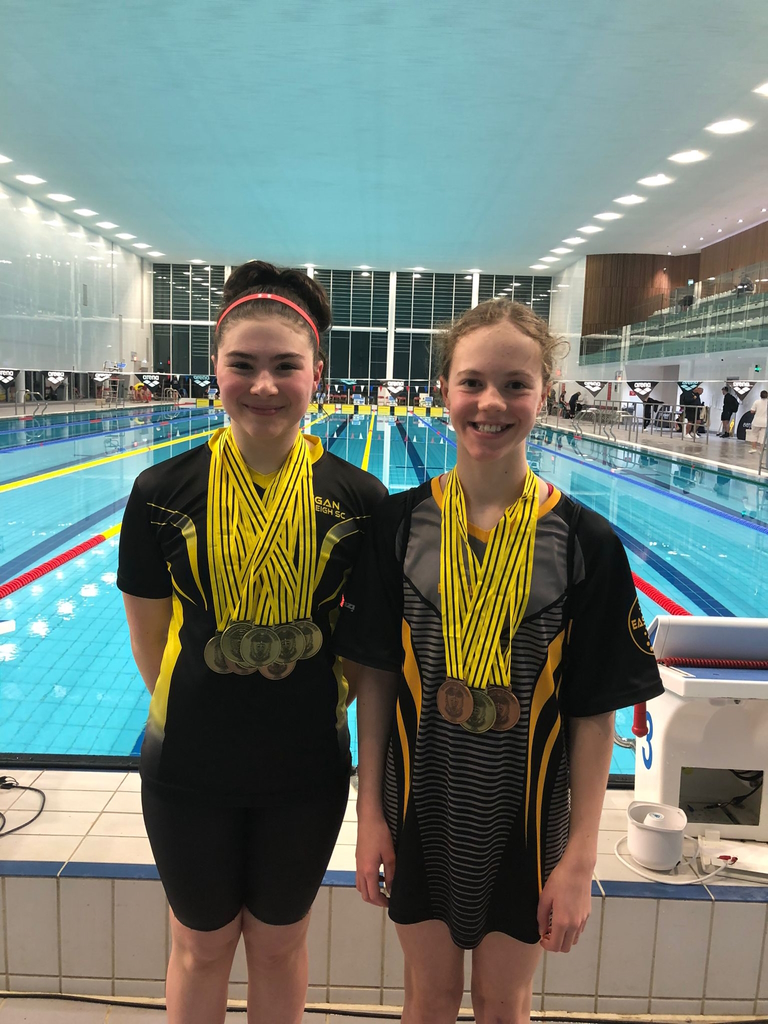 We started this second day of competition as we ended the previous, with some amazing heat swimming. In the heats we recorded 10 PBs and had 4 swimmers make finals in their events. Megan added another Gold medal in her 200m IM and Emily coming 4th . Emily got another 4th in her 50m Freestyle which was an incredibly tight race and finish. Megan's medal tally grew with two Bronze medals in the 50m Freestyle and 100m Butterfly.
Session 9
21 Swims, 13PBs, 1 Bronze Medal
This was a great final session for the younger swimmers and as a coach seeing so many swimmers making finals in this last session was incredibly encouraging. In the heats we had a further 10 PBs recorded in various events, which got 8 swimmers into finals for their events. Emilia, Poppy and Ella all made finals in the 100m Breaststroke, with Ella coming 4th. Emily got her third medal of the championships in the 50m Butterfly 10-11yrs, with Megan coming 4th in the same events in the 14yrs age group. Elliot again showed how much his strokes have developed and lengthened with a strong 4th in the 200m Breaststroke.
Looking at these 2 competition weekends and what we have done since the start of the season everyone should be incredibly proud. In this County Championships we have recorded a total of 94 PBs and 13 Medals, 8 Golds, 1 Silver and 6 Bronzes. These haven't come from one range of events or strokes, they have covered all distances and disciplines, which truly reflects the depth and ability of our swimmers and coaches. I want to say thank you to all the parents who supported their and our swimmers, both in the pool and online. Without all of you, these swimmers couldn't achieve what they do and have done. Plus to ALL the coaches, who put their wealth of knowledge, time, effort and passion into their coaching and sessions, thank you!
Training Update
On this note we are always looking at ways of developing our swimmers and so on Monday and Thursday morning training at Places Leisure Eastleigh, we would like all swimmers to bring their gym clothes to training. The reason for this is that ALL swimmers who attend these sessions in the mornings, will have the opportunity to do 45mins of Core/Land work before going into the pool and doing 45mins of swim training. This will be based around body weight exercises that will improve core strength and body position in the water. It will also help to prevent injuries and improve intrinsic awareness, improve both Anterior and Posterior strength and gives some differing ways of training away from the pool and that the swimmers could do at home.
---
hampshire, counties, head coach, matt, report, race, medals, gold, silver, bronze