Bournemouth Meet Report
07 Oct 2022
Author: Lianne Marsh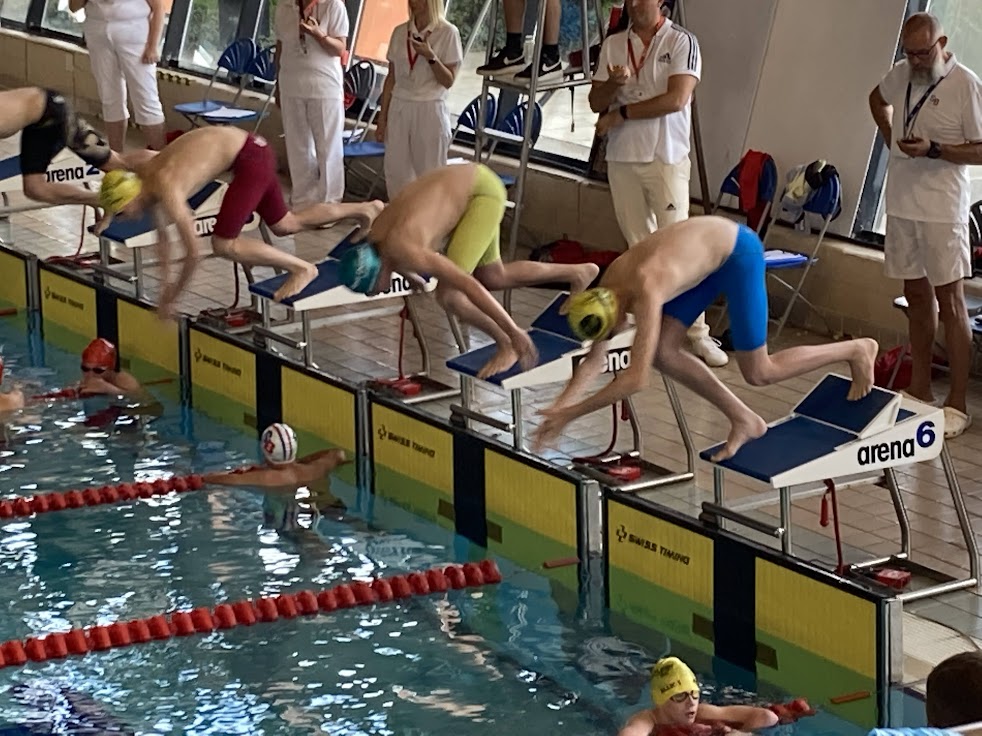 Last weekend, 62 Eastleigh swimmers took part in the Swim Bournemouth "Back To Competition" open meet. It was a start of the season meet with lots of swimmers using the weekend to challenge themselves, to try out new races, new distances, different strokes. This opportunity taught them a lot about what they can do if you don't always play safe and stick to your preferred stroke. If you did that this weekend, well done!
The weekend saw a total of 227 swims, of which 120 swims were personal bests; exactly what you would expect for the start of the season and after a Summer break. Once again though, we proved that we are a formidable force taking home:
42 Gold Medals
28 Silver Medals
23 Bronze Medals
The spread of medals were throughout the age groups showing we have great depth at all levels of performance swimming across the club. Our Head Coach, Matt, said,
"Well done to everyone that took part. You have made me so proud of all your hard work, grit and determination."
On the first day of competition, Ethan competed in 3 races, gaining 3 pb's and two silver medals; all on his Birthday #dedication. Poolside, the team all signed a card for him, particularly enjoying the fact they even got him to sign his own card! The weekend also saw a final competitive swim from Jess D before she heads off to University. We wish Jess good luck and hope to see her back training during the holiday periods.
The club had another first, with the Scott family all competing together and taking home a family medal haul of 5 medals - all gold!
There was also a family head-to-head between Izzy and Poppy H, with the sisters side by side in their heat. Poppy had a great race but her older sister triumphed on this occasion and gave her younger sister a lovely supportive round of applause as she finished
Emily R excelled in Fly, taking home 3 medals across three different distances, proving her grit and determination in this most strenuous of strokes. Danny B was on fire too, achieving a medal in each of his 8 swims. Alex G tried out freestyle races this weekend and took home gold in every race, including the IM. Jacob , back competing after his exams, got some excellent PBs and medalled in the 200m Freestyle. In our younger age group Aariana, Jess H-C, Emily B medalled in every race, along with Amelie showing we have some very strong younger talent coming through the club.
From our youngsters in our J3a and J3b squads, it was great to see excellent racing and personal bests from Imogen, Amelia, Freya, Bella K, Orla and Lucy, with some terrific starts reflecting their recent hard work off the blocks in training.
Our medal winners across the weekend were:
Allana A
Jacob A
Aariana B
Danny B
Emily B
Izzie C
Phoebe F
Alex G
Issy G
Izzy H
Megs H
Jess H-C
Emilia I
Jess I
Jennifer J
Elliot L
Maisie L
Tudor L
Ffion M
George M
Alba N
Ben N
Amelie P
Emily R
Isla R
Ollie R
Adam S
Alex S
Ella S
Sammy S
Rainbow
Evie S L
Ethan S
Bea S
Emily S
Rhyseren T
Amy V-W
Congratulation everyone, we are looking forward to seeing what can be achieved as we progress through the new season. Onwards to the next meet, keep on smiling, training hard and enjoying your swim life!
A big Thank You to Matt, Tanya, Nicola, Linda, Justin and Paul for coaching and team managing, Polly, Andy and Lianne for Officiating and, of course, all the parents that made the trek down the coast to support our swimmers!
---
Bournemouth, level 3, L3, race, report, meet, open meet, competition