Swim Fit Squad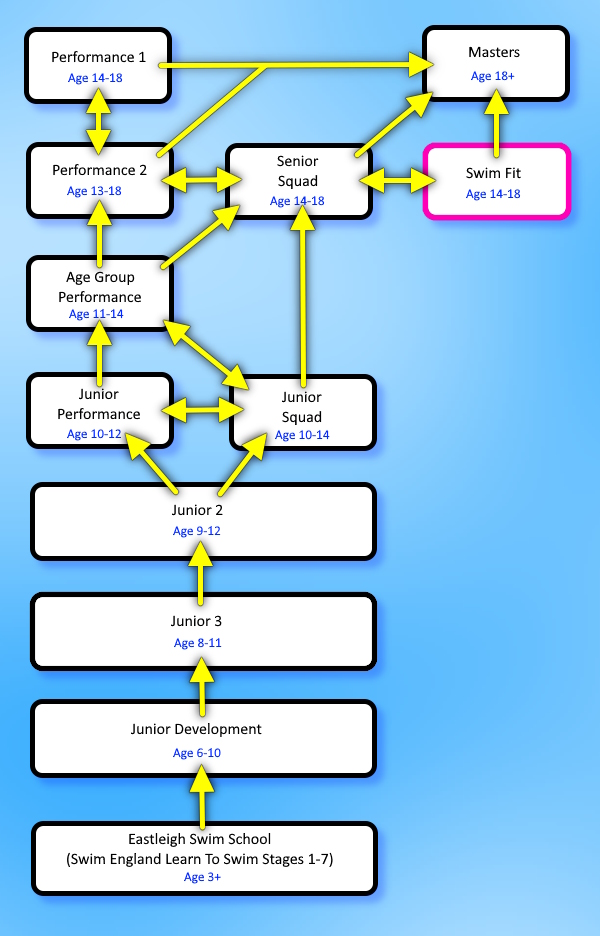 Total Hours Per Week: 3hrs
Target Age Range: 14-18

Squad Description
This squad is for those swimmers who wish to train to stay fit and not commit to other squads' criteria. Swimmers in this squad have ambitions to train well and are still hungry to achieve and improve. The objective is to be the best you can in the sport of swimming, challenging yourself and setting goals that are personal, whilst managing your own lifestyle.
The Swim Fit squad provides opportunities for swimmers to increase physical fitness and improve swimming ability. Our coached programme features regular, structured sessions emphasising stroke improvement, cardiovascular activities and progressive fitness training.
Members of this squad are expected to demonstrate the professional attitude expected of a senior swimmer at this level within the club and be an excellent role model to younger swimmers within the club. Punctuality is of strict importance with all warmups completed correctly.
Swimmers have the opportunity to enter Open Meets, Club Championships and galas if they wish to compete.

Swim England Long Term Athlete Development Plan
Stage 2 - Swim Skills: Building Technique
Stage 3 - Training to Train: Building the Engine

Criteria
Good technique on all STARTS, TURNS, FINISHES, UNDERWATER SKILLS, STREAMLINING, DRILLS and STROKE COUNTING.
FREESTYLE - No breathing on breakout (no excuse), no breathing for a minimum of the last 5m and holding a breathing pattern best suited for you and advised by coaches.
BACKSTROKE - Minimum of 4 fly kicks off all starts and turns with legal turns at a race pace and the finish on your backs.
BREASTSTROKE - Holding underwater phases with two held glides and a big down fly kick, legal fast turns.
BUTTERFLY - No breathing on breakouts (no excuse), no breathing last 5m, legal touches and fast turns.

Training Equipment
All equipment should be labelled with swimmer's name and in working order.
Swimming Hat
Fins
Goggles plus spare pair of goggles.
Kickboard
Pullbuoy
Drinks Bottle (700ml)
---