Junior 3 Squad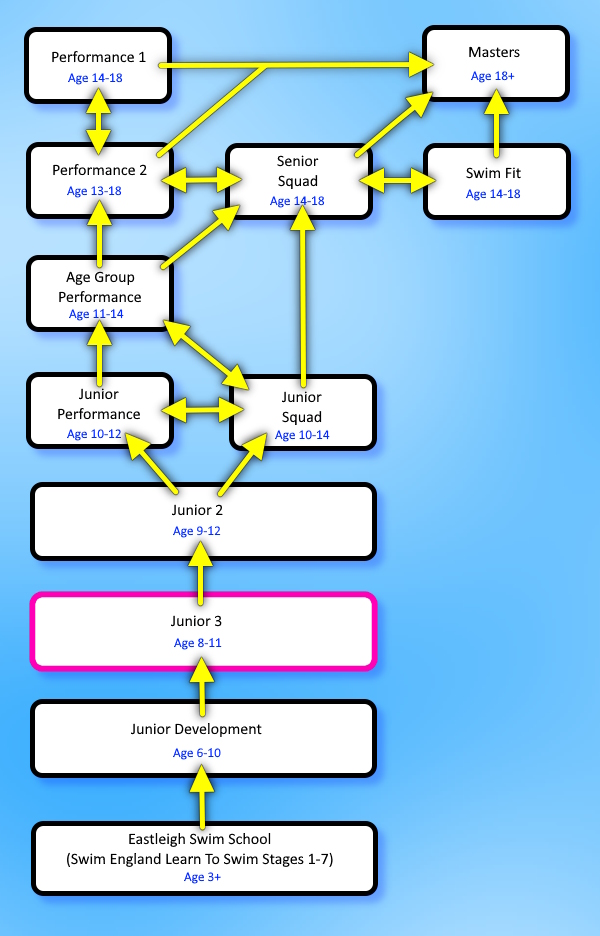 Total Hours Per Week: 4hrs
Target Age Range: 8-11

Squad Description
Swimmers in this squad will have exceeded Swim England's Learn To Swim programme at Stage 7, either in our club Swim School or at another provider of swimming lessons.
The club aims to always ensure that from this group of swimmers, Eastleigh SC will have enough to swim at least one team in Hants Premier League and other Novice, Grand Prix and Development type of competitions.
Squad Coaches work to develop the strokes of swimmers in this squad to a legal standard over 25m and 50m and to further improve Front Crawl and Backstroke over 100m. The swimmers also work to improve technique on Individual Medley (IM) and to build stamina on all strokes. Swimmers will have the opportunity to dive from starting blocks and coaches will ensure that all swimmers achieve the Competitive Start Award and work towards passing the shallow dive.
Coaches also teach the swimmers how to understand basic use of the pace clock (10 sec's, 15 sec's, 30 sec's and 60 sec's) and to learn the basic Swim England Laws of Strokes, Starting, Turning and Finishing. Swimmers also learn basic Lane Discipline and behaviour on poolside and coaches work to prepare the swimmers for movement to Junior 2 squad.
Swimmers in this squad are encouraged participate in targeted Open Meets Level 3, which will be selected to be appropriate standard for the individuals in the squad.

Swim England Long Term Athlete Development Plan
Stage 1 - FUNdamentals
Stage 2 - Swim Skills: Building Technique

Qualifying Criteria
Be able to swim 1 x 200m FC in a time of less than 4.30
Be able to swim 4 x 50m FC on 1.30
Be able to swim 2 x 100m IM
Be able to swim 50m on two different strokes, other than Front Crawl, in accordance with Swim England Stroke Laws.
To have been awarded the Competitive Start Award or be able to attain this award within 1 month of joining the squad.
To have a good understanding of Lane Discipline and to possess good understanding of Swim England Stroke Laws with respect to Stroke, Starts, Turns and Finishes.
Front Crawl breathing must be correct, holding a regular breathing pattern, suited for the swimmer.
Developing a good Streamlined Body Position with 3 Fly kicks off starts and turns.
Efficient leg kick during the swim on Front Crawl and Backstroke, with the basics of Breaststroke, i.e. legs to be symmetrical and basic push and glide technique and somersault must be of an acceptable standard. Further, improve Butterfly skills.

Training Equipment
All equipment should be labelled with swimmer's name and in working order.
Swimming Hat
Fins
Goggles plus spare pair of goggles
Kickboard
Pullbuoy
Drinks Bottle (700ml)
---