Junior 2 Squad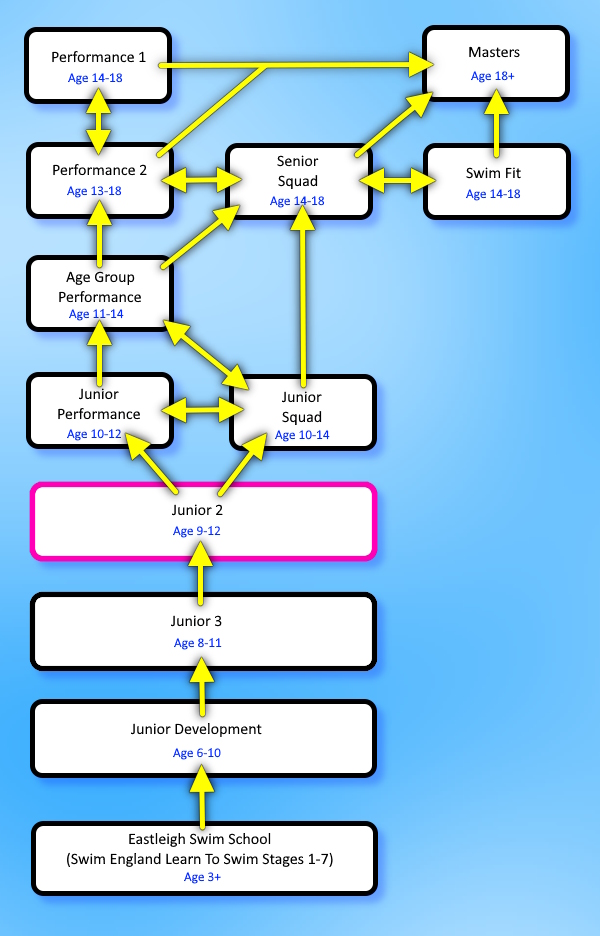 Total Hours Per Week: 6.5hrs
Target Age Range: 9-12

Squad Description
This squad consists of swimmers with good technique in all four strokes. Coaches aim to ensure that all swimmers are given the opportunity to develop all strokes to a standard that would allow them to represent the Club at any stroke over 50m and two strokes over 100m and to prepare the swimmer for movement to Junior Performance or Junior Squad.
Swimmer in this squad are encouraged to participate in targeted Open Meets at Level 3 working towards Level 2, inter-club galas and novice meets.

Swim England Long Term Athlete Development Plan
Stage 1 - FUNdamentals
Stage 2 - Swim Skills: Building Technique

Qualifying Criteria
Be able to swim 2 x 200m freestyle in a time of less than 4 minutes.
Be able to swim 6 x 50m FC on 1.20
Be able to kick 6 x 50m Choice on 1.30
Be able to swim 2 x 100m IM on 2.30
Be able to swim 50m on four different strokes, in accordance with Swim England Stroke Laws.
To have been awarded the Competitive Start Award or be able to attain this award within 1 month of joining the squad.
Have a good understanding of the use of the pace clock.
Have a good understanding of Lane Discipline and to possess good understanding of Swim England Stroke Laws with respect to Stroke, Starts, Turns and Finishes.
Being able to do the full Breaststroke underwater phase, understanding of the sequence for the underwater phase on Breaststroke of – Dolphin Kick, Pull & then Break Out stroke.

Training Equipment
All equipment should be labelled with swimmer's name and in working order.
Swimming Hat
Fins
Goggles plus spare pair of goggles
Kickboard
Pullbuoy
Drinks Bottle (700ml)
---
junior, squad, description, j2, junior 2