Junior Cup Report
16 Oct 2022
Author: Andrew Thomson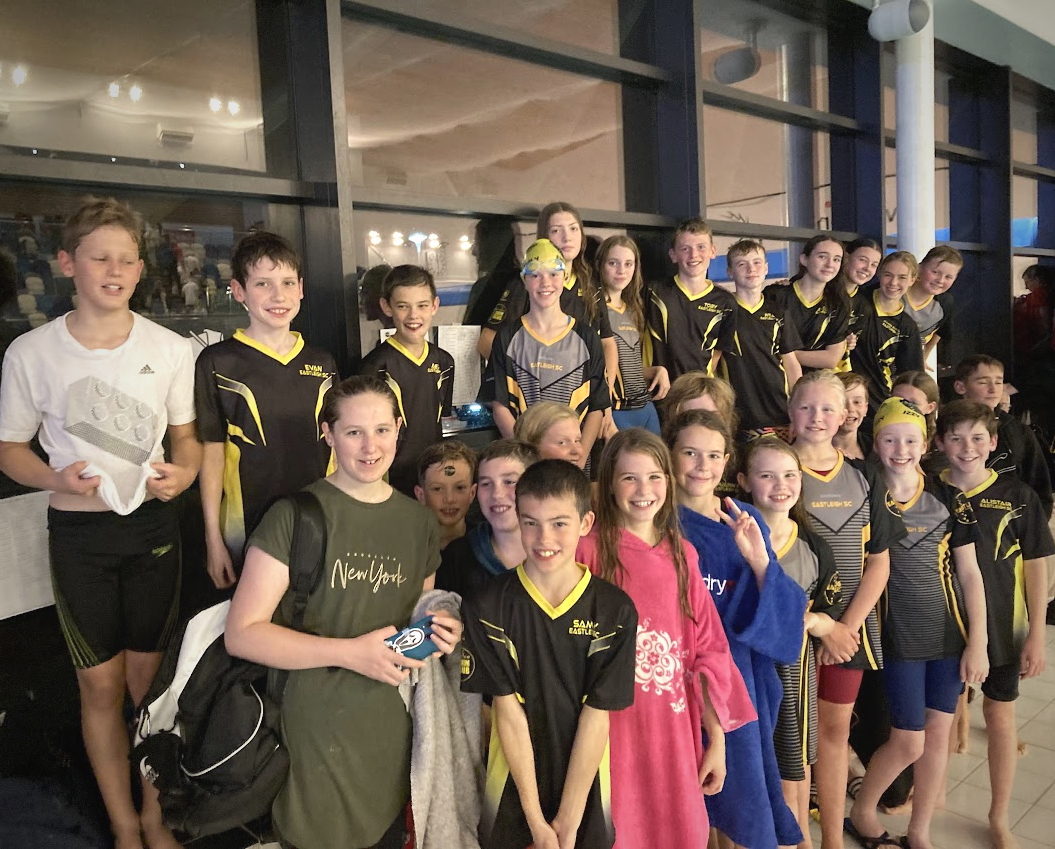 What a loud, exciting and successful evening for our swimmers in the Junior Cup at Fleet on Saturday!
The Junior Cup pits clubs from across Hampshire against each other in team competition, with points awarded for each finishing position, from six points for first place down to one point for sixth place.
The young Eastleigh team were up against Winchester, Andover, Wey Valley, Haselmere and Locks Heath. We got off to a fantastic start, winning four of the first five races and racing into an early lead. We have been impressive in breaststroke races at recent competitions and this was no exception, with victories for the boys and the girls in the older age groups. Haselmere fought back in the butterfly races and the competition was all-square at 48 points each after 10 races.
The noise ramped up a level when the first round of relays began and our under 11s swam magnificently to pip their rivals from Winchester for points in both the boys and girls freestyle relays. Our under 12s also had excellent freestyle relays, picking up third place finishes, adding to our points total. The under 13s and under 14s raced medley relays and picked up more good points for the team, with our under 13 girls in particular dominating their race to finish almost 5m clear of their rivals. After these relay events, Haselmere had gained a two point lead and we were in a very strong second position.
More individual races followed and we again showed our strength in the breaststroke races and also picked up victories in some of the freestyle events. Haselmere were also picking up victories in butterfly and a lot of second and third place finishes and gradually extended their lead while we continued in a strong second position. Andover, Winchester and Wey Valley were neck-and-neck for third place.
The excitement of the relays returned, with the u11 and u12 teams on the medley relay and u13 and u14 teams on the freestyle relay. Andover picked up a couple of victories in the u13 age group and our teams did well to beat both Haselmere and Winchester in close finishes. The u11 and u12 teams again had fast swims with the boys and the girls picking up vital points to add to our team total.
The grand finale of the evening was an ear-shattering 8 x 25m squadron relay. I don't think there was anyone in the arena that wasn't screaming at the top of their voice in support of their teammates! Each club had one boy and one girl from each age group, starting with the youngest and finishing with the oldest. In an exciting race, Haselmere inched away to claim victory and we finished in a close third place.
All in all, an excellent performance by the whole team. Finishing in second place wins us promotion to the top division for next year's Junior Cup, a magnificent achievement and something about which our young swimmers should be very proud and something they will look forward with excitement for 2023.
The final table on the evening was:
Haselmere: 230 points
Eastleigh: 184 points
Winchester: 179 points
Andover: 168 points
Wey Valley: 164 points
Locks Heath: 130 points
Congratulations to Haselmere for their win and promotion and well done to all the very impressive young swimmers that represented all six of the clubs.
The team of superstars that won promotion for Eastleigh are:
Isla, Orla, Lucy, Emily B, Seren, Ben S, Will A, Sammy, Bobby, Izzy T, Abi, James B, Evan, Alex S, Jess H-C, Alba, Amy V-W, Poppy, Alistair, Elliot, Will S, Ben W, Ella, Emily S, Allana, Toby, Ben N, and Ivan.
The support that these swimmers gave each other really stood out. Their behaviour was fantastic, the whole evening was great fun and everyone had a good time.
As well as competing in this event, we also jointly arranged the competition with our friends at Wey Valley. A very big Thank You to Wey Valley for their help, to Tanya for Team Managing on poolside, to Debbie, Tracy, Rachael, Kieran, Natasha, Andy, Simon, Gemma, Wendy and Paul for all their organisation in advance and support on the night, Mandy and Andrew for coaching and, of course, all the parents that made the trek up the M3 to cheer us on!
---