City Of Southampton Spring Meet Report
03/03/2020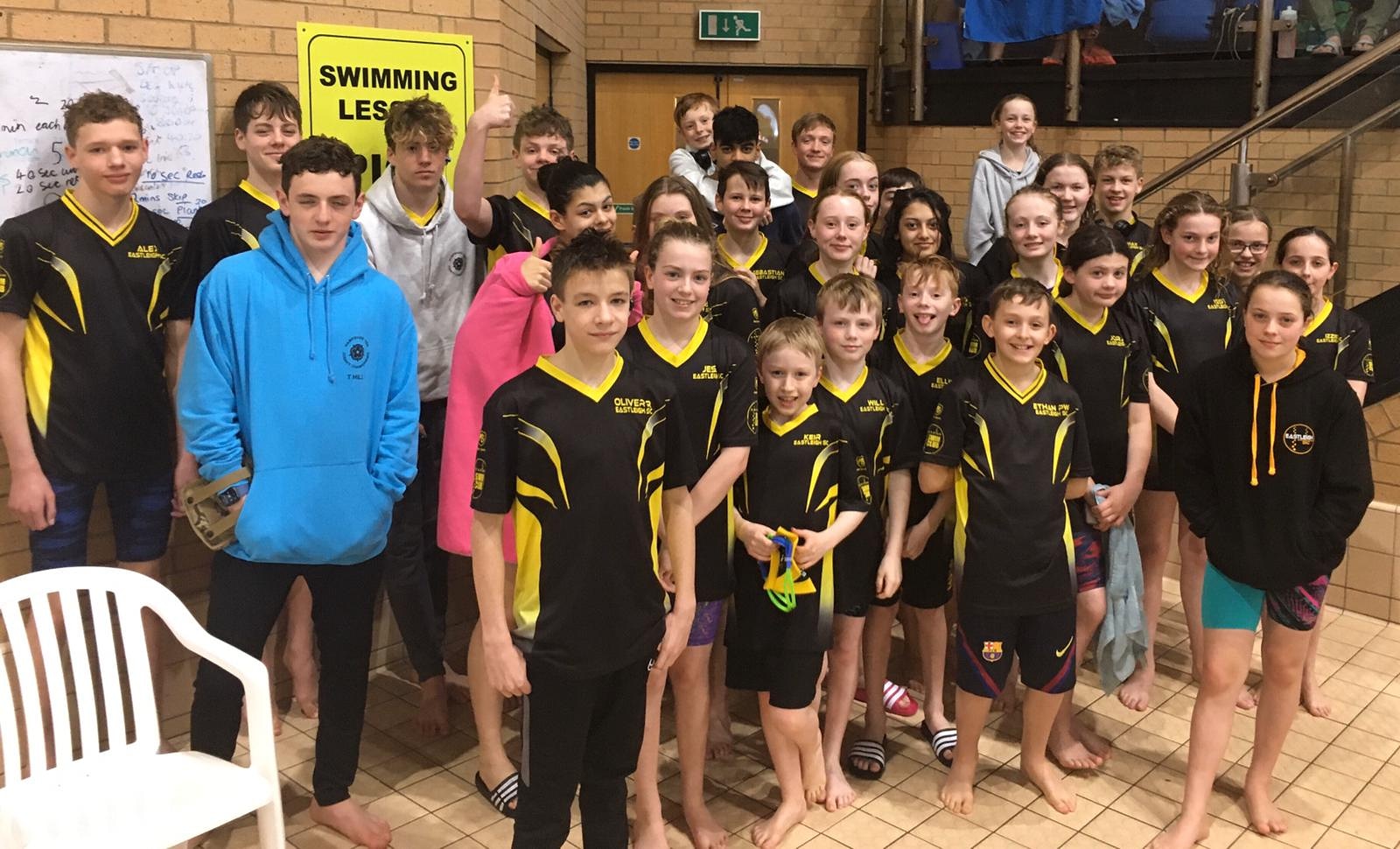 On Sunday, we took a large team containing swimmers from all our competitive squads to the City Of Southampton Spring Open Meet at The Quays.
Our swimmers squeezed an amazing 212 swims into 9 hours of non-stop action. As well as being a successful day for individual PBs and medals, clubs were awarded points for their swimmers' achievements and we were delighted to win the Top Visiting Club trophy, a really great team achievement in which all our swimmers played their part. When their teammates were competing, it was great to see our swimmers roaring on their friends from poolside and this certainly helped us win a few extra points. The team created so much noise that some event officials were complaining of headaches by the end!
The PBs began in the very first event and continued to the last and the points accumulated throughout the day. By the end of the competition, we were far ahead of our nearest rivals for Top Visiting Club. The top five visiting clubs on the leaderboard were:
Club

Eastleigh SC

Bassett JSF SC

Romsey & Totton SC

Locks Heath SC

Seaclose SC

Points

2172

856.5

789

733

666
The Top Visiting Club trophy was accepted on behalf of the swimmers by our Senior Girls Captain, Sophie.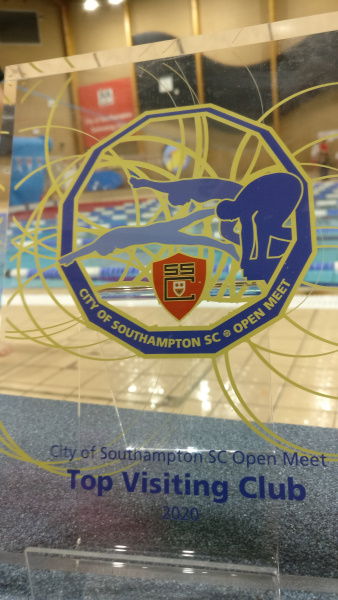 We had loads of good swims and new PBs and a total of 63 individual medals won by our swimmers. Some of the highlights and most memorable swims of the day included:
Zoha set 9 PBs from 9 races, including an excellent 10 second PB in her 200m IM.
Natalie smashed 4 seconds off her 50m breaststroke PB.
Victoria won medals in all 4 of her races.
Izzie overcame pre-race nerves to smash a terrific 10 seconds off her 200m IM PB.
Ffion swam with excellent technique and set a good PB in her first ever 100m butterfly.
Issy G showed exceptional grit and determination to take 3 seconds off her 100m butterfly PB.
Tristan used his much improved starts and turns to take a second off his 100m freestyle PB.
Max swam a very powerful 50m breaststroke and took a second off his PB.
Jess swam her first sub-1:40 time for 100m breaststroke.
Jennifer took an amazing 56 seconds off her 200m freestyle PB and 11 seconds off her 100m freestyle PB.
Nathan won 6 gold and 1 silver from 7 races and finished as our highest male points scorer.
Sophie J won 5 medals from 6 races and finished as our highest female points scorer.
Elliot showed excellent technique when setting PBs in all his events, particularly in breaststroke.
Keir swam a particularly strong 200m freestyle to set a 17 second PB.
Eilidh took 4 seconds off her 50m butterfly PB on the first leg of her 200m IM.
Sophie M swam an excellent 50m breaststroke on her return from injury and set a new 1 second PB.
Harry O broke the 70 second barrier for the first time in his 100m freestyle.
Ethan, Pippa, Ronan and Emily S all set PBs in all 5 of their races.
Isla showed good technique to take 4 seconds off her 100m backstroke PB and 5 seconds off her 50m butterfly.
Ollie swam an outstanding 200m freestyle and set 6 PBs from 6 races.
Seb swam an excellent 100m freestyle to set a 1.5 second PB and win bronze.
Mukund swam powerfully to become just the second Eastleigh swimmer to go sub-70 for 100m breaststroke.
Will continued recent improvements in his freestyle technique and was rewarded with 5 seconds off his 100m PB.
Rhyseren took 3 seconds off her 200m freestyle with an outstanding swim and had a massive smile of delight at the finish!
George was a fingernail from going sub-60 on his 100m butterfly, setting a new PB of 1:00.04.
Meet Statistics:
Swims: 212
PBs: 148 (70%)
DQs: 1
Trophies: 1
Medals: 63

Gold: 26
Silver: 15
Bronze: 22
---