Junior Squad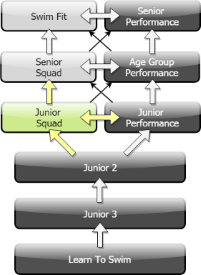 LTAD 3 train to train
4 sessions weekly, 5.5 hours total. 75% attendance is expected to maintain a place within the squad.
Ages 12-15 years, as of 31st December during the current year.
This squad is for those junior swimmers who wish still to train at a high standard yet cannot commit to or who have not achieved the performance squads criteria as of yet. Swimmers will still have ambitions to achieve County qualifying times and are still hungry to achieve and improve. Along with strength and core training, the objective is to be the best you can in the sport of swimming whilst managing your own lifestyles.
There will be a lot of quality controlled technical swimming.
Personal goal setting through your own technical training, race preparation, and race analysis with your coach.
There will be more emphasis on a self assessment on your nutrition, homework time management and team building.
Members of this squad will demonstrate a professional attitude expected of a swimmer at this level. Punctuality is of strict importance with all warm ups and blood flow completed correctly.
You will be targeting open meets as set out by your coach.
Skills Focus
Starts
Turns
Finishes
Underwater Skills
Streamlining
Drills Understanding
Freestyle

No breathing on breakout (no excuse)
No breathing for a minimum of the last 5m
Breathing bilaterally on every 3 strokes.

Backstroke

Minimum of 4 fly kicks off all starts and turns with legal turns at a race pace and the finish on your backs.

Breaststroke

Holding underwater phases with two held glides and a big down fly kick
Legal fast turns

Butterfly

No breathing on breakouts (no excuse)
Legal touches and fast turns.
Training Equipment
(All equipment should be labelled with swimmer's name and in working order)
Swimming Hat
Fins
Goggles X 2
Float
Pullbuoy
Drinks Bottle (700ml)
---