Junior Performance Squad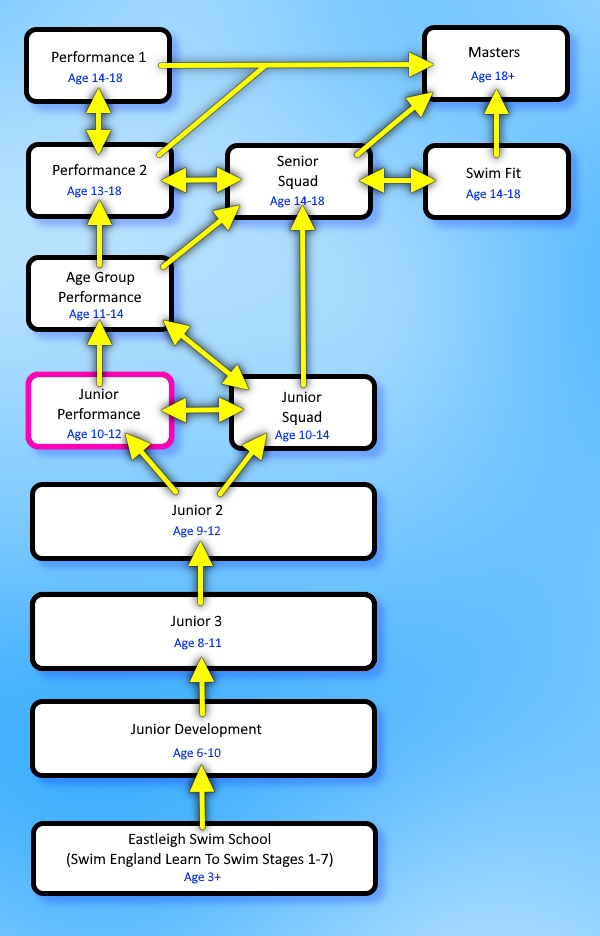 Total Hours Per Week: 11hrs
Target Age Range: 10-12

Squad Description
Junior Performance squad consists of ambitious young swimmers who are keen to develop their swimming skills, participate in competitions and challenge themselves to attain County Championship qualification times.
Swimmers in this squad learn to perform skills acquired under a variety of competitive conditions. A progressive training programme for swimmers is used, to be seen as a preparation for Age Group and Performance swimming. Squad members are expected to compete in all strokes and distances and especially in individual medley events.
Members of this squad are expected to fully support the clubs training and competitive programmes and be available to represent the club at most galas and other competitions commensurate with their age and experience. All swimmers should work towards exceeding 60% attendance of all sessions available. Swimmers are expected to compete in the Club Championships as well as Open Meets as indicated by the coaching staff.
Swimmers that are selected to this squad and cannot achieve the above criteria with respect to training attendance and competition should discuss with the Junior Development Coach immediately.
Swimmers unable to maintain the above attendance criteria, without good reason, will be moved to a squad more suited to their ability, commitment, and attitude to training and competitive performance.

Swim England Long Term Athlete Development Plan
Stage 1 - FUNdamentals
Stage 2 - Swim Skills: Building Technique

Qualifying Criteria
Be able to swim a test set of 2 x 400m Front Crawl in a swim/rest time of 7:30.
Be able to swim 100m on all four strokes in accordance with Swim England stroke laws.
Be able to swim 8 x 50m Front Crawl in a swim/rest of 1:10.
Be able to kick 8 x 50m on No 1 Stroke on 1:20.
Be able to swim 4 x 100m IM in a swim/rest of 2:00.
To have been awarded the Competitive Start Award and be able to demonstrate good underwater phases through to breakouts, hitting the breakouts at race pace.
To also have a good understanding of the use of pace clock.
Possess good understanding of Swim England Stroke Laws for all strokes including Individual Medley, possess good standard of technique regarding stroke and stamina.

Training Equipment
All equipment should be labelled with swimmer's name and in working order.
Swimming Hat
Hand Paddles
Fins
Skipping Rope
Snorkel
Goggles plus spare goggles
Kickboard
Pullbuoy
Drinks Bottle (700ml)
---