Age Group Performance Squad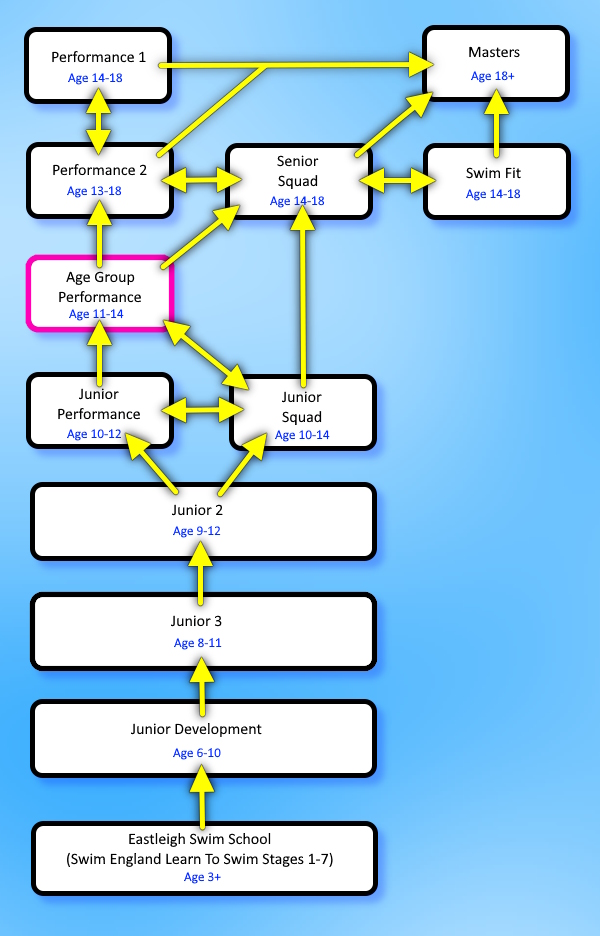 Total Hours Per Week: 14.5hrs
Target Age Range: 11-14

Squad Description
Major emphasis on stroke technique for swimmers, plus basic endurance and speed is developed from skills already learnt within the Junior Squads. The land programme is further developed, cardiovascular fitness improved, with work on mental preparation and technical/tactical skills and time management. Competitive aims are Swim England's County, Regional and ultimately National age group competitions.

Swim England Long Term Athlete Development Plan
Stage 2 - Swim Skills: Building Technique
Stage 3 - Training to Train: Building the Engine.

Qualifying Criteria
Swim a test set of 2 x 400m F/C in a swim/rest time of 7.00,
Be able to swim 100m on all four strokes in accordance with Swim England stroke laws.
Be able to swim 10 x 50m F/C @ 60.
Be able to kick 10 x 50 No 1 Stroke @ 1.15.
Swim a test set of 2 x 200m IM in 5.00.
To have been awarded the Competitive Start Award and start to have a good understanding of the use of the pace clock.
Possess good understanding of Swim England Stroke Laws for all strokes including Individual Medley.
Members of this squad would be expected to fully support the club's training and competitive programmes and be available to represent the club at most galas and other competitions commensurate with their age and experience. All swimmers will be working towards 60% attendance of all sessions available. Swimmers will be expected to compete in the Club Championships as well as Open Meets as indicated by the coaching staff.
Swimmers that are selected to this squad and cannot achieve the above criteria with respect to training attendance and competition should speak with the Age Group Performance Coach (Tyler) and/or the Junior Development Coach (Mandy) immediately. Swimmers will be able to create a program that suits their family and school life and yet creates the training habits required at the higher levels of the club.
Swimmers unable to maintain the above criteria, without good reason, will be moved to either Junior Squad or Senior Squad, depending on their age, so that it is more suited to their ability, commitment, and attitude to training and competitive performance.

Training Equipment
(All equipment should be labelled with swimmer's name and in working order)
Swimming Hat
Hand Paddles
Fins
Skipping Rope
Snorkel
Goggles X 2
Float
Pullbuoy
Drinks Bottle (700ml)
---