Rother League Division 1: Round 2 Report
12 Jun 2022
Author: Lianne Marsh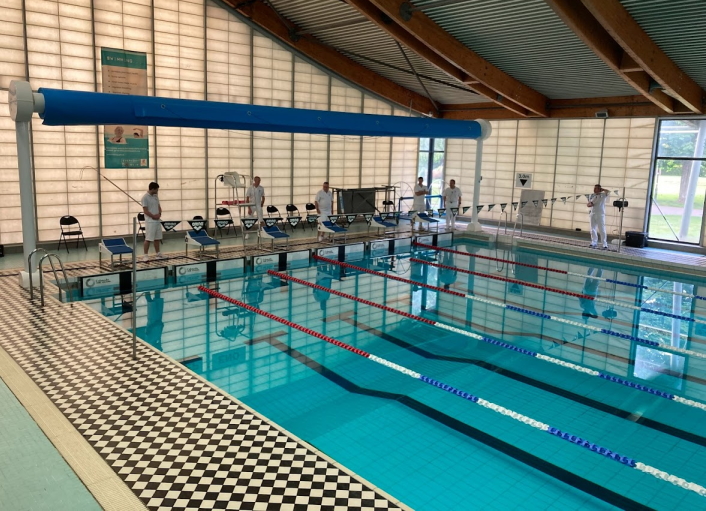 On Saturday, 11th June 2022, a team of 17 girls and 12 boys headed to Woking's Pool in the Park for Rother League, Round 2. The Rother League has run since 1972, with a break for Covid, as part of the Hants & South East Swim League. League events are important as fantastic team building opportunities, where club swimmers are not pitted against each other and can have fun working together.
The evening saw teams from Woking, Sutton & Cheam, Staines, Havant & Waterlooville, Haslemere, and Eastleigh participate non-stop in 49 relay heats. It was a fast-moving event, with many swimmers given little respite over the 90 minute event.
In the two individual races of the evening, Alana took home the 100m IM trophy in the Girls 100m Individual Medley with an excellent swim. In the Boys 100m Individual Medley, Ben went off like a rocket over the first half of the race and finished close to his PB to pick up more points for the team.
The Backstroke relay is worth a mention, as unlike a medley swim where the swimmers dive over the head of the incoming swimmer, the handover must be done legally without impeding the outgoing swimmer. This is a complicated handover, but one that had many swimmers laughing and smiling from the poolside as they cheered on their teammates.
Our under-12s teams deserve a special mention for winning some of their relays and being right up there fighting it out for the others. It will be great to see how these talented youngsters develop over the next few years.
With almost every one of the 29 swimmers racing out of age group in multiple races, every single swimmer rose to the challenge. The age 16 and Open swimmers from the other clubs were Goliaths by comparison but, unfazed, our Eastleigh swimmers battled on and secured important points for the team. It was an evening marked out by the team spirit and determination they all displayed and paramount to all of this was the fun they had doing it and the kindness they all showed one another.
The Squadron Relay was swum to the deafening roar of spectators and swimmers alike. This was when Eastleigh were able to showcase some impressive sprints. The squadron, racing mainly within their age group, finished 3rd.
By the end of the night Eastleigh placed 4th overall.
Thank you and well done to our swimmers: Aariana, Alana, Alex G, Alex C, Alfie, Alba, Amelie, Ben, Bobby, Danny, Damian, Ella, Emily, Evan, Ffion E, Ffion M, George, Hamza, Harry, Isla, Issy G, Jacob, Jessica, Layla, Megan, Oliver, Phoebe, Rhyseren and Rosie.
Tough times bring tough teams, you made us all so proud. Thank you all for swimming your heart out in Woking. Looking forward to seeing you swim hard next week at HWSC Swim Out Of Your Skins meet!!
---