New Club Chair, Tracy Haskett
28 Apr 2023
Author: Eastleigh SC Committee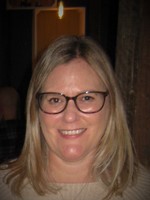 We are delighted to announce that Tracy Haskett has agreed to be the new Chair of Eastleigh Swim Club. Tracy has been formally voted into this position by the club committee. We are sure many of you have met Tracy during training or when she has been proudly supporting her daughter, Emily, who swims in our Junior Performance squad and is a regular competitor at Open Meets, including winning the 100m freestyle at the Hampshire County Championships earlier this year.
Tracy says: "I am delighted to become the Chair of Eastleigh Swim Club and have the opportunity to continue the great work of our previous Chair in leading such an amazing club.
In my free time, I have recently started swimming again and attend our adult improver classes on a Saturday, which I love. It is great to be back in the pool. My fitness and technique has improved considerably, however I don't think I'll be challenging my daughter to a race any time soon!
I am very much looking forward to getting stuck into my new role and getting to know you all better."
Tracy replaces Gareth Latham as our Chair. Gareth recently stepped down after being in the role for just over a year and we would like to give huge thanks to him for all the sterling and incredibly valuable work he did for the club during his tenure as Chair.
Gareth said: "I have been incredibly proud to be Chair of ESC and I hope that some of what I tried to achieve stands the club in good stead for the future. Unfortunately, with the increase in my work hours I am unable to attend sessions and conduct as many face to face meetings as is probably preferred to lead effectively".
We would like to remind all members of the club that you can contact Tracy and any of the committee members, plus our Head Coach and our Welfare team via the Contact Us page on the club website, or you can catch up with members of the committee in person at Places Leisure Eastleigh and Oaklands during training.
---