County Championships Report Part 2
03 Mar 2023
Author: Matt Boyd-Wallis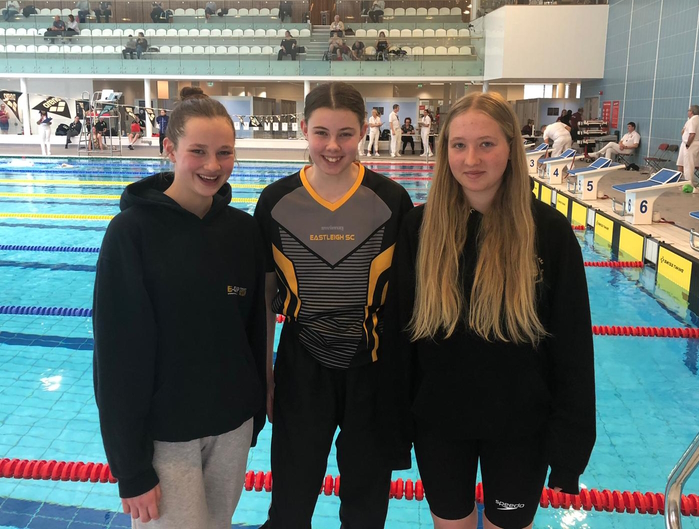 Well it's all over for now, the final weekend of the Hampshire Championships has been completed!
I just want to first say thank you to everyone who took part: the swimmers for all their hard work and commitment, parents for supporting the swimmers in all the ways you do, the volunteers for helping out on poolside either as Team Managers, Officials or Marshals and finally the coaches for all their hard work in preparing and getting our swimmers believing in themselves.
Day 5 - Saturday 25th February
Sessions 10 & 11
40 Swims, 19 PBs, 1 Silver & 1 Bronze Medals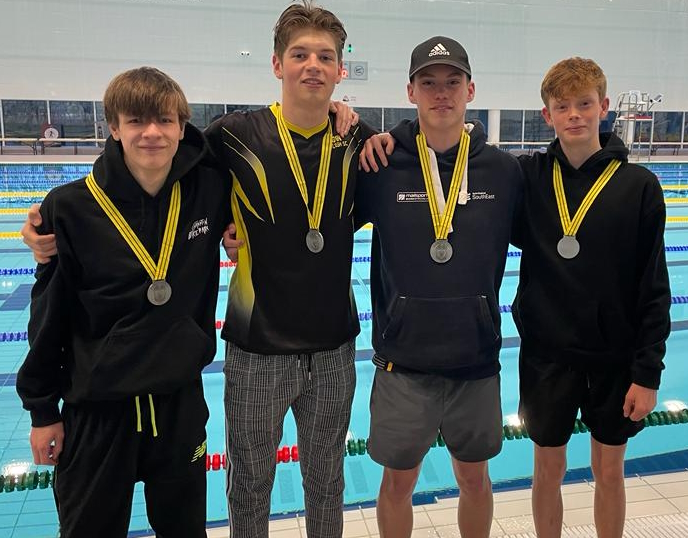 Like the first weekend this was the chance for the Senior (15yrs and above) and distance swimmers to shine and they didn't let anyone down, evident by the number of PBs that were recorded. We started the weekend with the 1500m (one of my personal favourite events) and Rhyseren, Ella and Alana all stepped up to the challenge. Ella (14yrs) and Alana (15yrs) finishing 4th in their age groups, with all three girls swimming their hearts out. In the next session the successes continued with the relays, where all four teams (2 girls and 2 boys) recorded PB times and we gained a Silver Medal in the Boys 10-16yrs 4 x 50m Free Relay, made up of Oliver, Harry O, Nathan and Aiden, swimming in that order, smashing the previous club record by over 2 seconds! Not to be outdone, the Girls 10-16yrs 4 x 50m Free Relay team of Lilly, Phoebe, Alana and Evie SL also set a new club record by 2 seconds, becoming our first girls team under 2 minutes long course. During the rest of the session, we saw further success in the individual races, with more PBs being recorded and then improved further in some finals and Nathan winning a Bronze Medal in the 16yrs 50m Freestyle. Lilly came 4th and Alana coming 5th just behind Lilly in the 15yrs 200m Breaststroke, with Alana taking a huge 10 seconds off her previous best time.
Day 6 – Sunday 27th February
Session 12 & 13
49 Swims, 21 PBs, 2 Silver & 2 Bronze Medals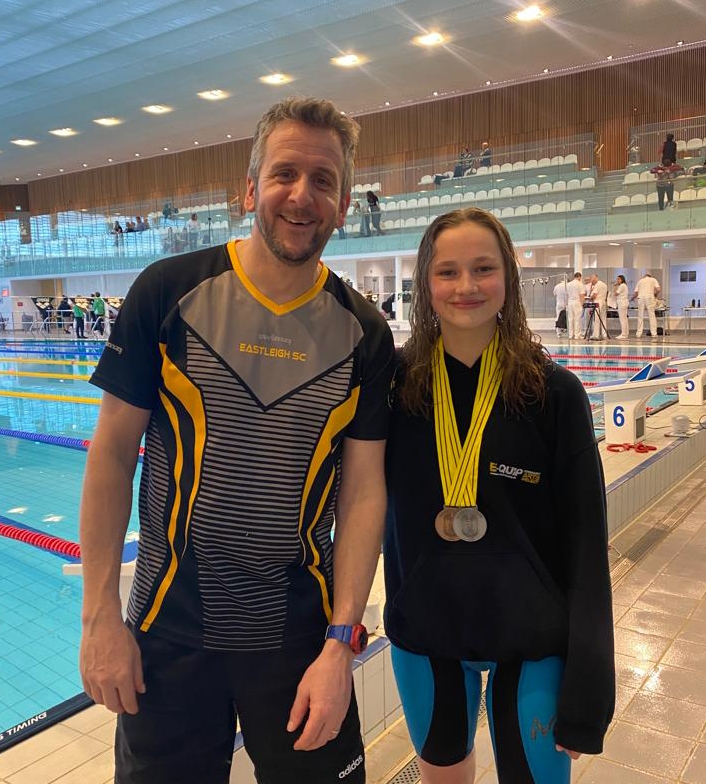 For me this was one of the highlights of the Championships, being the final session, where people are tired, trying to keep their focus and having to dig deep. We achieved some great results, the first and biggest was the number of PBs and finalists. Alana continued her charge with a Bronze medal in the 15yrs 100m Freestyle and then a Silver Medal in the 400m IM, where she took another whole 6 seconds off her previous PB time. Nathan won a Bronze Medal in the 16yrs 100m Fly and I want to mention Tudor (15yrs) and his impressive swims in this event. He PB'd in both the heats and finals, finishing with a new PB time of 1.10.96 (Long Course). I wanted to mention this, as it is an example of what belief, positivity and hard work can do! Tudor swam this event, short course, in October and recorded a PB time of 1.13, he then swam it again in November, not doing so well and feeling a little low afterwards. However after chatting with him and resetting, he focused on his training and himself and he has gone and smashed his short course time, in a long course pool, by swimming a 1.10. Finally Aiden won a Silver Medal in the 16yrs 50m Backstroke, smashing the club record in the process, which ended the Championships and the weekend on a real high.
In summary these have been a great Championships! There have been the ups and downs that come with all competitions, but we MUST see the positives overall for us as swimmers, our team mates and the club. We have 3 County Champions:
Megan T (14yrs) in the
800m FC, 400m FC, 200m FC, 100m FC, 200m Fly and 200m IM
Emily B (10-11yrs) in the
100m FC
Nathan L (16yrs) in the
50m Fly
We had a total of 7 Gold, 4 Silver and 9 Bronze Medals and a total of 134 PBs won and recorded. This says an awful lot to me and shows the kind of potential Eastleigh Swimming Club and it's swimmers have. These medals came across all events, all age groups and in all strokes! Please everyone, start to believe in yourselves, see the positives more and believe in yourselves! You can all be like Megan, Emily, Nathan, Tudor and Alana just to name a few! Congratulations to everyone who took part in the 2023 Hampshire Championships and I hope to see more new faces in 2024 at this competition! You all have the potential through hard work, focus, belief and positive thinking in yourselves and what you are doing, so go for it!
---
county, counties, hampshire, hants, champs, championships, compete, race, medals, PBs