Club Championship Report
11/06/2019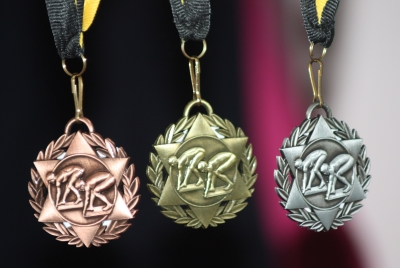 Wow - what a weekend! It was terrific to see so many of our swimmers competing in the 2019 Club Championships.
Swimmers from all squads took part, from Junior 3 all the way up to Performance 1. Congratulations to all competitors and a special mention for those competitors from the Junior 3 squad, Klara, Will and Sophie, who were brave as lions when swimming against their more senior friends, rivals and teammates, and all three went home with medals.
For some of our swimmers, the club championships were an opportunity to achieve new personal bests, others were targeting a medal or two, some were aiming for gold and a few were taking aim at club records.
Our youngest competitor, Alexander, was on his own in the 8-and-under age group, taking part in the 50m Freestyle. Alexander unsurprisingly went home with gold and he managed to knock 3 seconds off his PB in the process. Well done!
In the 9 year old age group, Ella set the pace for the girls, taking gold in all nine events that she entered. Sophie and Klara competed excellently to challenge Ella. Both set new PBs and showed great improvement in their technique after their recent hard work in training. In the boys' competition, there was fierce but friendly rivalry between Keir and Elliot, sharing nine golds between them. Will, in his very first competition, set PBs for breaststroke and freestyle, taking bronze in both.
The 10 year old girls age group was filled with talented young swimmers. The gold medals were shared by Alana, Freya, Jessica, Lolah and Megan, with Jorja, Grace and Ruby also winning medals. From the J2 squad, Eilidh and Evelyn swam excellently and both achieved new personal bests. The boys were thin on the ground in this age group, with only Toby and Matthew competing. Toby went home with two golds and Matthew took home six. In a lightning fast swim, Matthew lowered his own 200m Butterfly Club Record to 2:47.69.
In the 11 year old age group, every one of the boys that competed went home with gold. Aiden did fantastically well to win 6 golds, at least one for each stroke. Sebastian won two golds and Oliver and Daniel went home with one gold each. The girls' events had a lot of participants, including guest competitors from other local clubs. Top performer was Phoebe, who went home with eight golds and two new Club Records in 50m Butterfly (34.02) and 200m Backstroke (2:47.68). Visiting from Romsey & Totton SC, Amelia took gold in four events. Freya took the final gold with a great all-round performance in the 100m IM. Also winning medals were Emily, Isabelle G, Isabelle C, Isla, Ellie and, also visiting from Romsey & Totton, Chloe. There were also great swims and personal bests from Jennifer and Ffion.
The 12 year old age group was well represented for both the boys and girls. There was lots of friendly rivalry as the girls got a rare opportunity to go head-to-head against the boys from their training squads. There was a good spread of gold medals amongst the girls, with Issy winning five, Rhyseren four, Maisie three and Rosie and Evie winning one each. Issy continued her recent good form, setting two new Club Records for 50m Backstroke (32.66) and 100m Backstroke (1:08.59). Verity and Zoha were also medallists and Hannah continued her good form, smashing her PBs. Nathan dominated the gold medals for the boys, winning eight. Having only recently moved into the competitive squads, Liam did excellently to win two golds. Harry O and Lucas both took home one gold each. Harry G and James also won medals and Jan swam well to set his first PBs in the breaststroke and freestyle events.
There was strong competition in the 13 year old boys category. Fraser won seven golds, Ethan four and Jacob, Max and Finley won one gold each. There was some really great racing, especially close in the freestyle events. Josh swam excellently, winning a medal in every event he entered but just missing out on a gold. For the girls, the golds were split between Ellena with seven and Emily with four. Zoey, Kiran, Pippa and Natalie also won medals and Mali and Sophie both achieved good new personal bests.
In the 14 year old age group, we had more guest swimmers from Romsey & Totton, with Maddie winning two golds and Natalyia winning one. Freya dominated the other events, winning seven golds, and Anya won gold in both IMs. Lucy and Jessica also swam well to win silver and bronze medals. For the boys, Oliver won everything except the freestyle events, taking home nine golds. Frank took first place for the freestyle sprints and Lewis won his first club title in the 200m freestyle. Mo, Josh and Isaac also won medals, demolishing PBs along the way, and William swam well to set PBs in his events.
The 15 year old boys competed against guest swimmers from both Romsey & Totton and City Of Southampton SC. Southampton's Daniel won four golds and Romsey's Dylan won three. Fraser was the only Eastleigh competitor in this age group and went home with the full set, winning a gold, a silver and a bronze from his three races. The girls were represented by Emily, Olivia and Victoria. Victoria took home eight golds, Emily three and Olivia won the 200m backstroke. There were some powerful swims from the girls and good new PBs.
We had three long-standing Club Records broken in the 16 and over age group. For the ladies, Sophie dipped under Emily Ard's 200m Butterfly club record, smashing her PB and setting a new club best of 2:43.69. Jodie set her third Club Record in recent months when winning gold in the 100m Butterfly. Again, it was Emily Ard who previously held the record and Jodie knocked a second off it to become the first female swimmer under 1:10, with her new record of 1:09.89. In total, Sophie won seven golds and Jodie three. Katie and Victoria swam excellently to win gold in tight races in the freestyle and backstroke sprints, with two golds each. Lea and Lizzie also went home with medals, just missing out on gold in tight races. The third Club Record was set by Mukund in the mens' 100m IM, dipping under Oliver Summers' record with a new mark of 1:03.15. Mukund came out just on top in the mens' events, with six golds to George's five and there was one gold each for Callum and Zak.
In total, the swimmers set an amazing 313 new PBs! The weekend's most spectacular PBs were:
Alana took 22 seconds off her 200m Butterfly
Sophie took 11 seconds off her 200m Butterfly
Zoha took 24 seconds off her 100m Freestyle
Daniel took 18 seconds off his 100m Freestyle
Hannah took 15 seconds off her 100m Freestyle
Josh took 14 seconds off his 100m Freestyle
Jacob took 24 seconds off his 200m Backstroke
Victoria took 17 seconds off her 100m IM
Zoey took 9 seconds off her 100m Breaststroke
Matthew took 26 seconds off his 200m Breaststroke
Lucas took 21 seconds off his 200m Breaststroke
Daniel took 42 seconds off his 200m Freestyle
Lewis took 13 seconds off his 200m Freestyle
Aiden took 28 seconds off his 100m Breaststroke
Harry took 29 seconds off his 100m Breaststroke
Fraser took 15 seconds off his 200m IM
Freya took 18 seconds off her 200m IM
Jess took 21 seconds off her 100m Backstroke
Mo took 7 seconds off his 50m Breaststroke
Kiran took 8 seconds off her 50m Butterfly
A Club Championship can only be run with the help of the many, many volunteers from Eastleigh and our friends at local swimming clubs who gave up their time over the weekend. In particular, thank you to everyone who organised the event, those who volunteered to help manage and coach the swimmers on poolside, to officiate, to keep us fed with so many cakes, sweets and cookies, to take the official photos, to run the registration and medal and results desks, to announce the events and to help keep everything running smoothly. And to the parents, siblings, friends and relatives who loudly cheered on the swimmers from the balcony.
Competition Results and Times: Eastleigh SC - Club Championship Results June 2019.pdf
Club Champions: Club Champions 2019
Club Records: Club Records Short Course
---