Another Medal For Eastleigh At The Regional Championships
12/05/2019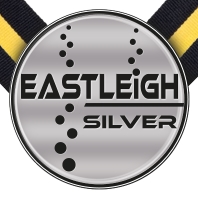 It's another medal for Eastleigh and for Issy at the South East Regional Championships! Issy added to yesterday's gold by taking silver in the 200m Backstroke with a new 13-yrs and open-age Club Record of 2:30.49! Marie Godwin's previous Open record of 2:32.15 had stood since 1998 and to break it at such a young age is a magnificent achievement by Issy.
We also had Club Record breaking swims by Nathan and Freddie in the boys 50m Butterfly, each lowering their own Club Record times in the 11/under and 12-13 age categories to 33.57 and 31.54 seconds respectively. Nathan also smashed his 200m Freestyle PB by 14 seconds, setting a new personal best time of 2:30.65, and took 2 seconds off his own Club Record in the 400m IM with a time of 6:02.03, finishing in 10th position.
There was double-record breaking in the girls 13-yrs 100m Butterfly with both Evie and Emily dipping under Rhyseren's recent Club Record in the same heat. Emily touched first to set a new 13-yrs and Open age Club Record time of 1:13.27. Emily also took 9th place in the 50m Breaststroke, just missing out on the final with a time of 37.41.
In the boys 13-yrs 100m Breaststroke, our County Championship silver medallist, Max, took 2 seconds off his PB with an excellent time of 1:25.34, finishing in 23rd position.
In the girls 13-yrs 400m Freestyle, Rhyseren achieved an excellent time of 5:07.53 to finish in 22nd position.
Terrific swims, well done all!
---